On 15 October 2022, 23rd Manchester Cub Scouts made their way over to Boarfold Scout Campsite to have a go at Amateur Radio.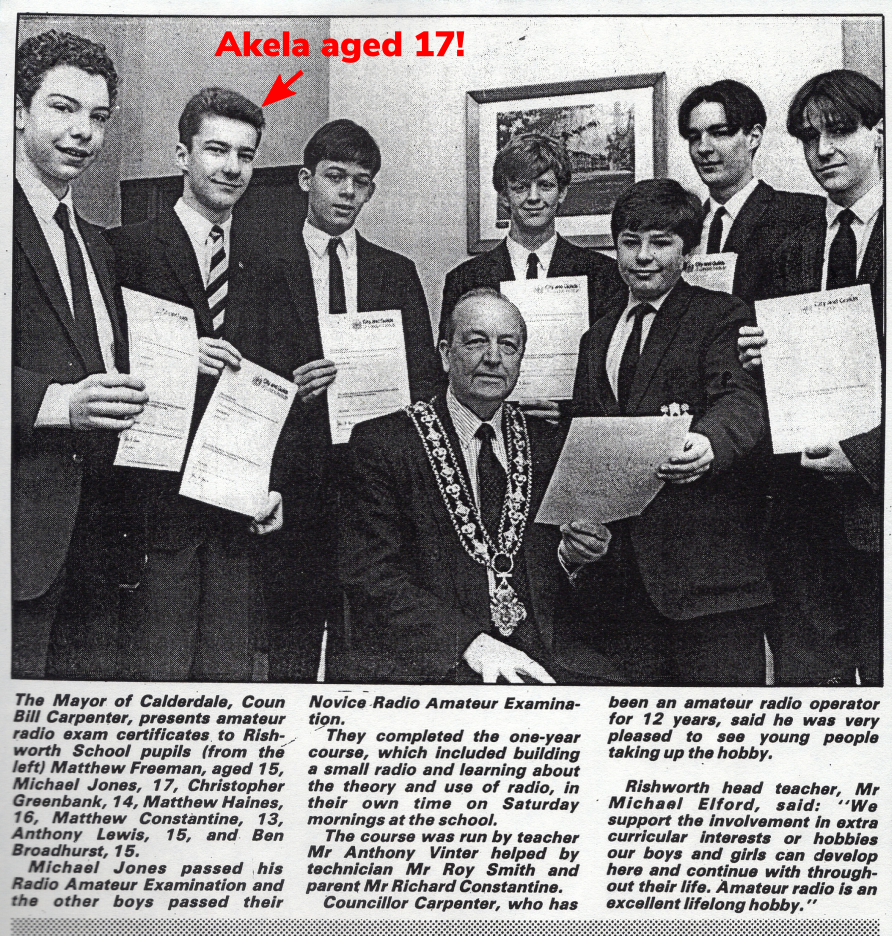 A very long time ago (at school), Akela learned to operate amateur radios, and after a long time away from the hobby, thought it would be a fun way to try to contact other Scout groups near and far, here and around the world.
A fair amount of preparation went into this event. Contacting the RSGB and Ofcom; getting the Notice of Variation for our new call-sign GB0BSC (Golf Bravo Zero Boarfold Scout Campsite). Setting up our page on QRZ.com. Getting advice from our local friendly Amateur Radio club G8SRS and nearby Scout group, 88th Manchester, who have worked radio before. Making numerous visits to Boarfold Campsite to scope out the location, make the necessary risk assessments and set up the antenna.
The event was initially due to run for the entire weekend but for various reasons we had to limit ourselves to the one day. So for the day we mainly concentrated on HF (High Frequency, i.e. Short Wave) radio operations. Other activities planed for the camp such as building Morse keys, looking at Semiphore, working on our NATO alphabet and look at Azimuthal Projection maps and Great Circles, we can fit into our programme over the next year.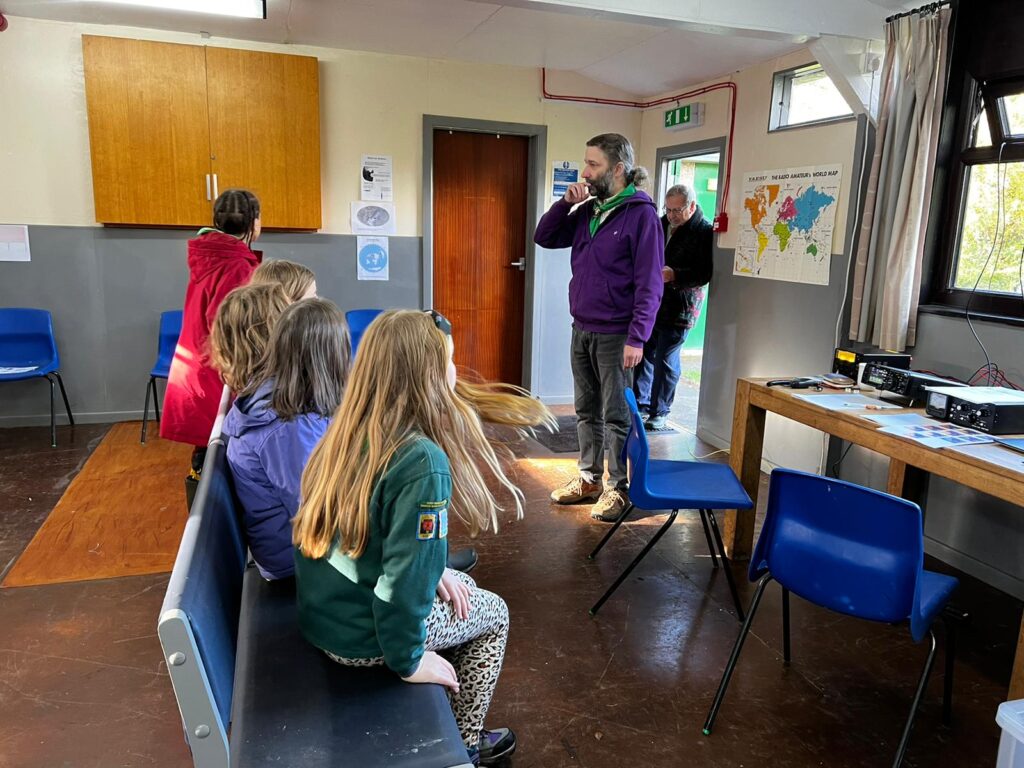 We started at 1000h BST, and after a our safety briefing and a tour of activities most cubs found a bunch of PMR radios1 in Akela's box of things and wanted to try those out first. We learned how to select the relevant channel and soon discovered that listening was key and exchanging overs was the way to get messages back and forth.
Later Akela would discover that PMR radios were an excellent way to get wide Cub Scouts back to HQ for lunch. "Akela calling all Cub Scouts, Akela calling all Cubs Scouts. Please return to base; return to base; lunch is ready. Over".
"[Cubs] to Akela, We're coming!"
During the day our Cubs got involved in a number of the activities. Hide and seek with PMR radios (the Cubs invented their own game); Battle ships via PMR Radios; make a cup and string radio (very useful during a storm); send greetings via shortwave radio; watch some remote control drone activity.
Four of our Cub Scouts got down to business with our HF station and made greetings messages with other stations around the UK. Well done to Adeline, Anisha, Niamh and Olivia. We also heard folk operating out of Germany, The Netherlands, Ireland and Italy, but were unavailable for us to make a QSO2 with.
As if speaking on the radio for the first time wasn't nerve wracking enough mid-afternoon lightning struck the valley. Fortunately lightning was one of the events we had anticipated (even though the weather and no indication of electric storms at all that day!) A flurry of activity disconnecting antennas in the hail. The storm lasted only about 10 minutes and the Cubs all came inside and made cup-and-string telephones. Next year we'll try paper cups, as the plastic ones to hand mostly split 🙁
After the storm passed and Akela was happy that the weather wasn't going to turn, we reconnected the antenna and I think we made our last few QSO's/Contacts.
Our log book for the day.
Just before closing the station down, I tuned into one of the gateway repeaters on 70cms (UHF) to hear a part-radio, part-internet communication between two stations in the USA. Hopefully we'll be able to get further afield next time. Maybe operating both HF and gateway repeaters will increase our chances.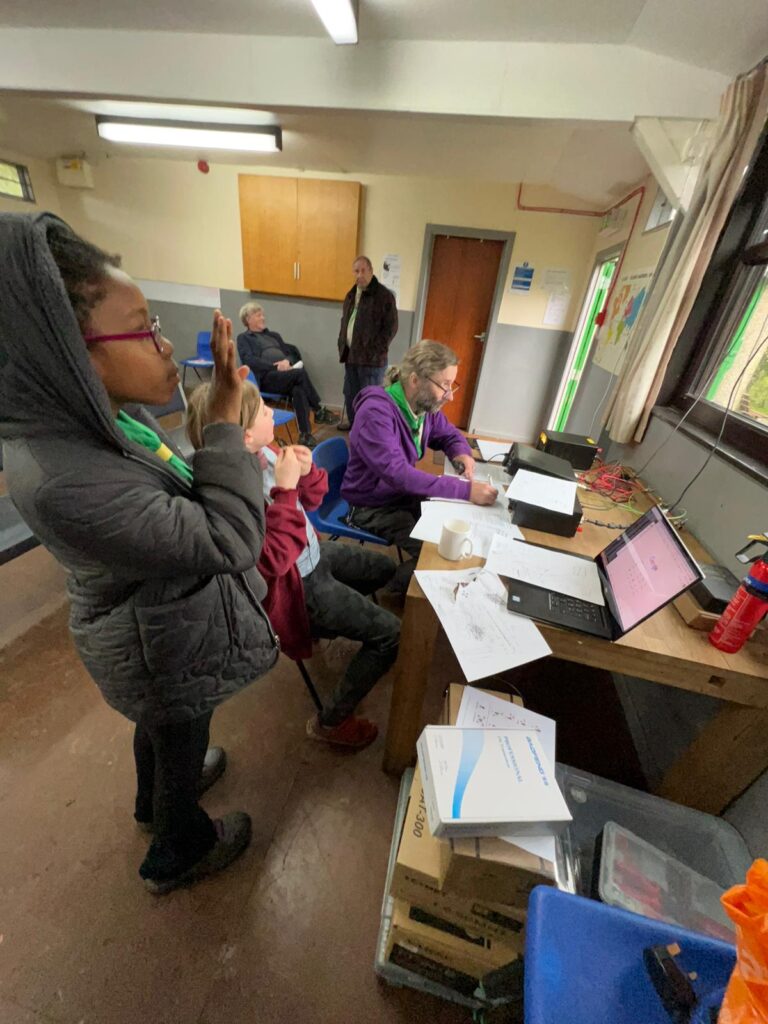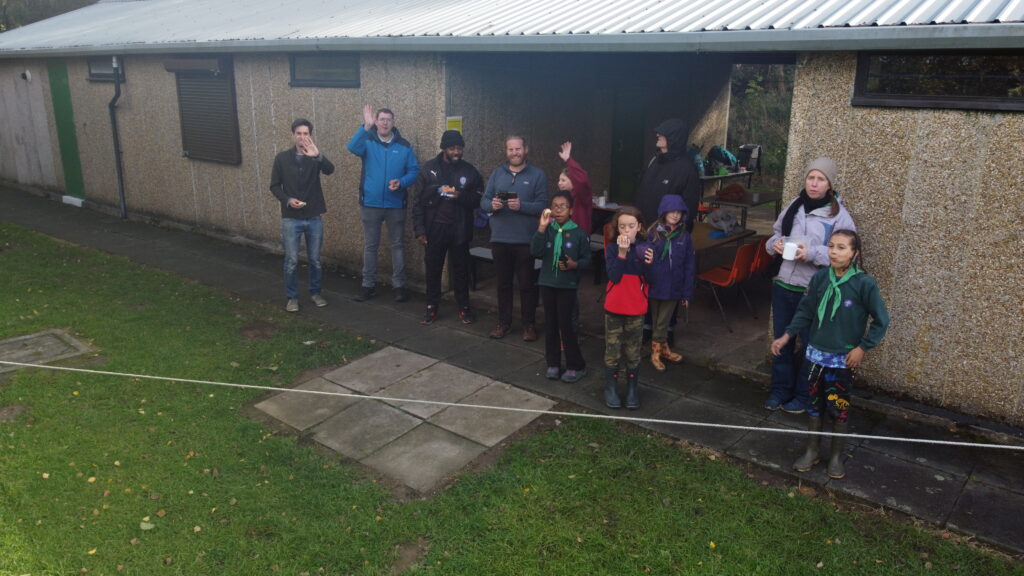 PMRs or Private Mobile Radios, for those who don't know are very low power UHF radios that operate within the 446.0-446.2 MHz band.